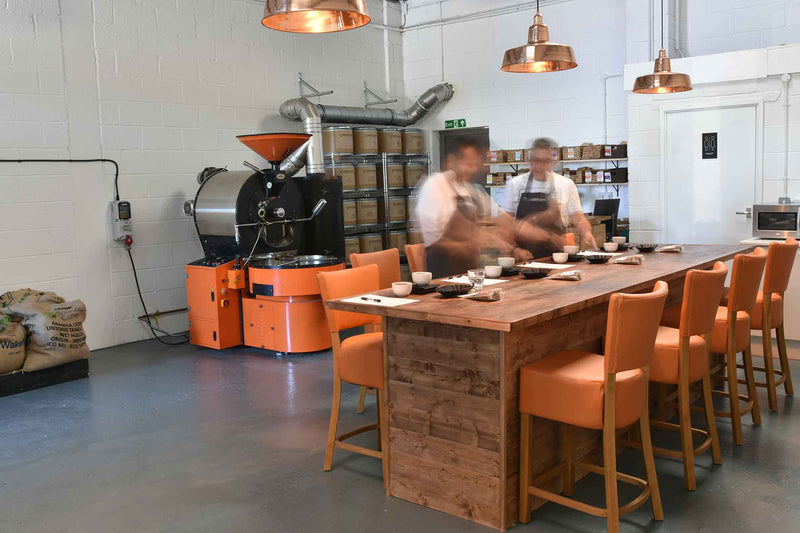 Coffee journey experience
The smell is what hits you first, followed by the feeling of steam against your lips and cheeks. And then, ever so slowly, your taste buds come alive with an abundance of flavour complexity. 
Join us for a fun and informative, hands-on coffee making and tasting experience that explores what makes speciality coffee special, at one of the UK's very few highest-quality artisan roasters. A unique coffee experience for all, where you'll use all your senses to discover how to fully enjoy a world of 'gems'. 

After an introductory welcome cup of coffee, we'll look at green beans and explore how varietals, altitude, soil, post harvesting processing methods and style of roasting affect the coffee flavour profile. 

Guests will discover how we create different profiles for the perfect espresso or filter roast. Then it's time to grind the beans and "cup" the coffees; going through a coffee journey identifying and exploring unique flavours to find your coffee taste preferences.

A minimum of three coffees will be brewed during the experience, and small snacks will be provided to soak up the caffeine! Warm clothing and comfortable shoes are advisable.

About Your Host; Owner and Coffee Whisperer, Ricardo

Ricardo's love for coffee started where coffee grows, in a remote Colombian region named Huila. He grew up on his grandparents' estate and fondly remembers the coffee plantations blooming, dressed in white, with scents of jasmine and his grandmother using a copper pot to roast. 
Today in the United Kingdom and with more than 15 years of speciality coffee experience under his belt, his passion and mastery is to cure the best green coffee beans in the market, roast them to bring out the most prominent flavours of each origin and delight the British public and far beyond with these exceptional beans.

Location: Unit C11, Bumpers Way, Bumpers Farm Industrial Estate, Chippenham, Wiltshire, SN14 6LH
Session Length: The experience lasts for about 2.5 hours and it runs Thursdays from 3:30pm to 6:00pm and Saturdays from 12:30pm to 3:00pm. 
Maximum guests per session: 8
Price: £49.50pp
Our coffee experiences are usually scheduled up to 4 months in advance. Select your booking date or the 'gift voucher' if you'd like to give a flexible booking and we will send you the voucher via email. Please get in touch if you can't see a suitable date and we'll try and make another date available.

If you're interested in bringing a private group or a corporate booking, please get in touch for more info.

Telephone: 07511 207973
Email: hello@coffeegems.co.uk
WHAT'S INCLUDED

Enjoy a sensory coffee tasting experience at Coffee Gems Artisan Roastery where our events are built around bringing people together over coffee

Experience coffee through exploring key aromas and flavour profiles
Understand the bean to cup journey and how the industry evaluates coffee based on the quality
Discover different cupping techniques

Take a complimentary 20% off in any coffee of our collections